Celebrating Healthy West Virginia (CHWV) is a community recognition and assessment program from the West Virginia Division of Health Promotion and Chronic Disease. Despite the hard work and inspiring stories happening in communities across the state, the chronically low national rankings and poor health outcomes in West Virginia can feel overwhelming. CHWV is working to change the narrative by sharing what's working and empowering community leaders with actionable insights.
Benchmarks for a Healthy Local Economy
CHWV's assessment framework already measures how well communities meet key quality-of-life metrics, but at H+W, we've begun looking at ways to collectively measure the economic impact these things provide communities. Our initial report clearly shows that tourism, local food systems, and community revitalization efforts can all benefit when communities make progress in achieving the program's benchmarks.
Our study's efforts focused on two key areas:
Building stronger collaborations and greater awareness with organizations and agencies in these other industries
Exploring the development of ways to measure the impact of health initiatives in West Virginia
These efforts resulted in some pretty impactful numbers that can be seen in the fact sheet we developed for CHWV.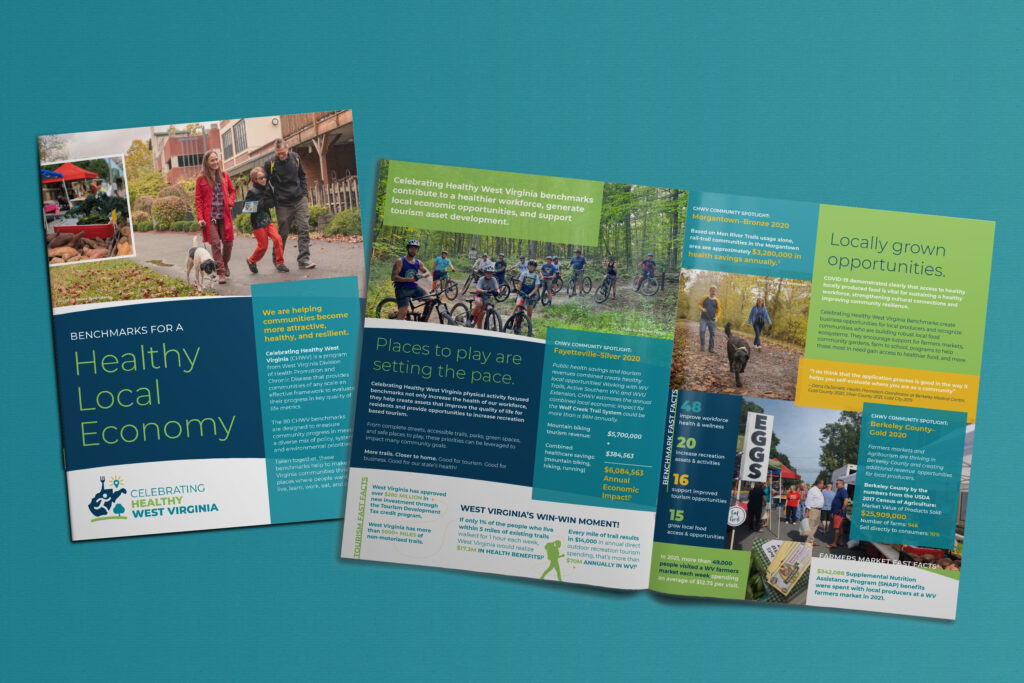 Path 1: Adapting an Existing Health Savings Calculator

This complex tool gives a big-picture view of potential savings that are calculated from community data applied to human activities. We first come across it in Oregon's Statewide Comprehensive Outdoor Recreation Plan.
For our communicating impacts presentation at the 2021 WV Trails conference, we utilized this spreadsheet-based calculator to estimate a $6,084,563 combined impact for mountain bike tourism and public health savings in Fayette County, WV.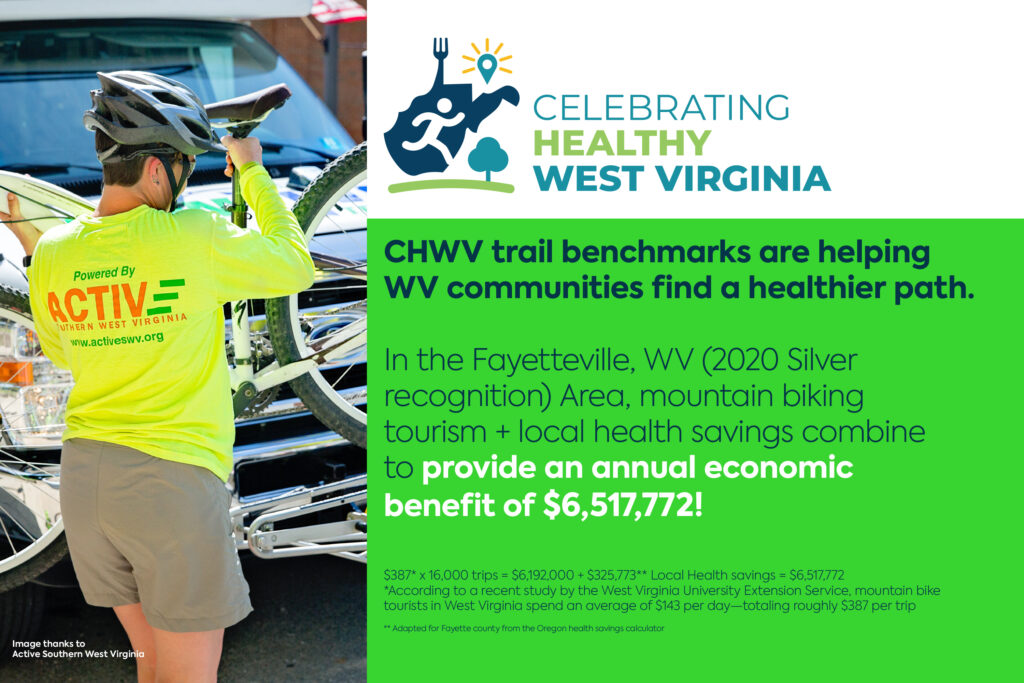 Path 2: Measuring Program impacts through ITHIM

Most Integrated Transport and Health Impact Tools (ITHIM) make a best guess through many population scenario assumptions using surveys and other data. Active Southern West Virginia doesn't have to guess at its program participation numbers. To explore this opportunity, our NPS Rivers and Trails partner Nathan Hilbert adapted the University of California Davis' ITHIM calculator to specifically focus on measuring physical activity. The program data calculates a community health savings benefit for ASWV's Community Captain Program of $76,576!
There are a few essential things to consider with any of these tools.
First, it is important to note the gravity and challenges of placing a monetary value on a human life.
Second, these numbers will always be secondary to the human stories and experience the benchmarks empower in communities.
We always have to provide a human connection to the data. The numbers demonstrating impacts on lives in WV communities are significant, but sharing how these data points show up as experiences in a real person's story is what matters.
Collaborations and Partnerships
If we want to go far–and we have a long way to go–we need to go together! Breaking down silos between agencies and industry partners has been the primary focus of our project. It was critical in the development of the tools and will be vital in implementing the results and recommendations of our economic overlaps study moving forward. Working together, state agencies and partners can align around a shared data framework and toolbox
Tourism is a very bright spot for our state and a key driver of economic opportunity in communities. It is also a key priority for the state's leadership. Communicating CHWV's benchmarks' connection to these goals can build a bridge between agencies, encourage local leaders to engage, and help communities leverage multiple funding streams and technical assistance from aligned health and tourism efforts.
We've calculated nearly 50 of CHWV's benchmarks overlap with recreation, tourism, and business development goals. It works both ways. Efforts to improve related policies, systems, and environments also create opportunities for citizens to live healthier lives.
The biggest takeaway is this.
Regardless of what agency or organization you represent, your work has a broader impact than you think. Through collaboration, that work can be elevated and expanded.