The beginning of the year – whether January or your organization's fiscal year – usually includes the words "strategic plan." Or, maybe there is a new opportunity or big milestone that reprioritizes your objectives. We see and work with strategic plans with our clients regularly, both with one already in place or alongside them to develop one.
A strategic plan has value for everyone!
Businesses
Non-profits
Individuals
Community or municipalities
But what exactly is a strategic plan? How is it different from your business plan? Does it play nice with your Brand Compass or guide? How about with your marketing strategy framework? Let's take a look!
What is a strategic plan?
A strategic plan outlines an organization's direction by assessing where it is currently (the present) and where it's going (the future). Strategic plans typically cover five years. However, for complex organizations, where implementation requires greater coordination—such as communities or municipalities and even large organizations—they can be 10- and even 20-year plans. Rome wasn't built in a day! 
The end result – the strategic plan document – turns intentions into a roadmap for actions.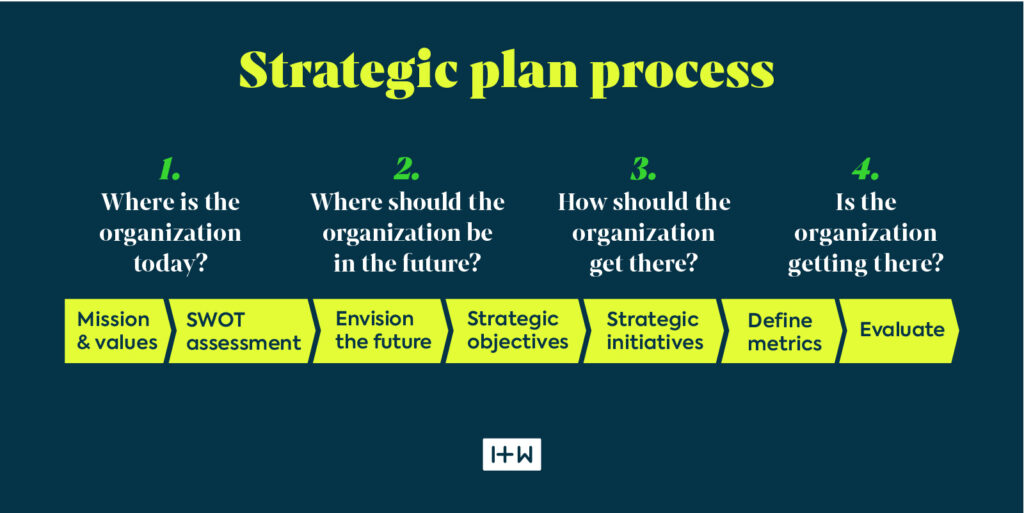 The process of strategic planning itself seeks to answer four fundamental questions(source):
Where is the organization today?
Where should the organization be in the future?
How should the organization get there?
Is the organization getting there?
And a strategic plan consists of:
Mission
Vision
Values
Long-term goals
Action plans
If you've worked with us to develop your Brand Compass, you already have a head start! A well-defined and written strategic plan can help your organization grow and succeed by empowering your team with a clear reference for responding to opportunities and challenges.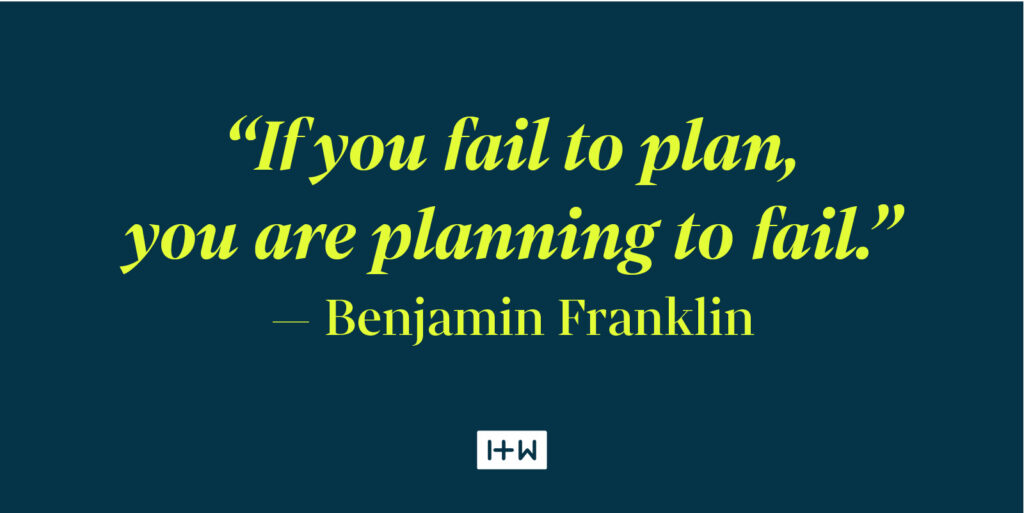 The benefits of putting in the work are long-lasting:
Identifies the critical focus points
Structure to succeed
Framework for Accountability
Defines metrics to help keep on track
Involved stakeholders are invested in the organization's success
Increased productivity and innovation
Long-term perspective
Decision-making to keep on track
And more
Is it different from your business plan?
A business plan is essential when starting your business and defining goals and objectives. A strategic plan defines how you want to change or evolve and grow your business for the future. It is an intentional process of planning the organization's future direction, by reviewing its present position and then outlining objectives it wants to achieve in the future. If you have your target audience(s) defined, they'll be a constant reference to ensure you meet their needs. If your audience(s) are also shifting, the strategic plan might include some brand pivoting.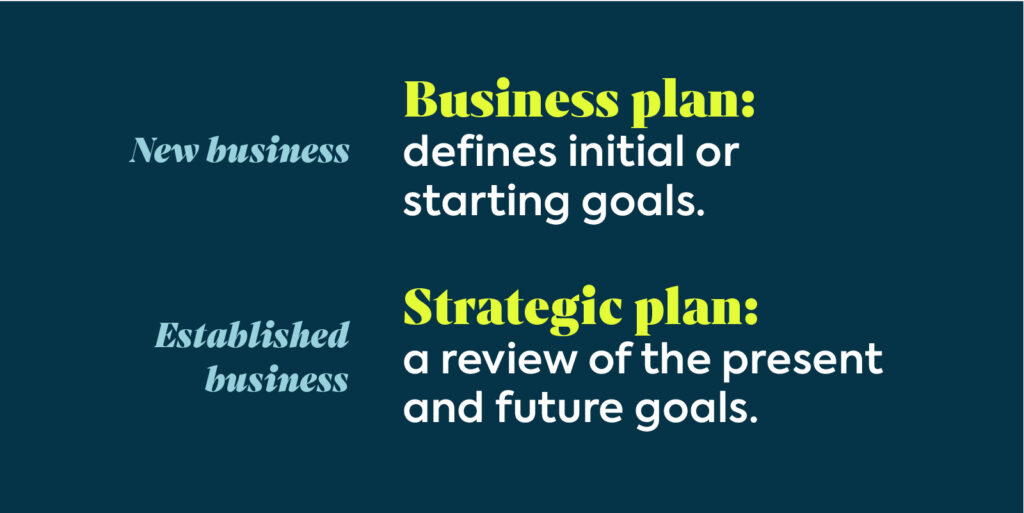 How does it work with your Brand Compass?
The initial steps of the strategic plan process includes reviewing and possibly redefining your mission and vision.
Are your mission and vision still true to your brand? Have there been shifts to your mission or vision focuses that require redefinition?
Your values are important to communicate now and into the future.
Are your values still accurately represented and the guiding force of your brand? If things have changed, review, evaluate and adjust these in your brand (this means updating your Brand Compass too).
How does it work with your marketing strategy framework?
You may already know the answer to this.
Whereas a strategic plan encompasses your whole organization's goals and objectives, the marketing strategy framework details how your marketing comes to life (a marketing plan!) and the actionable tasks necessary to achieve your marketing goals.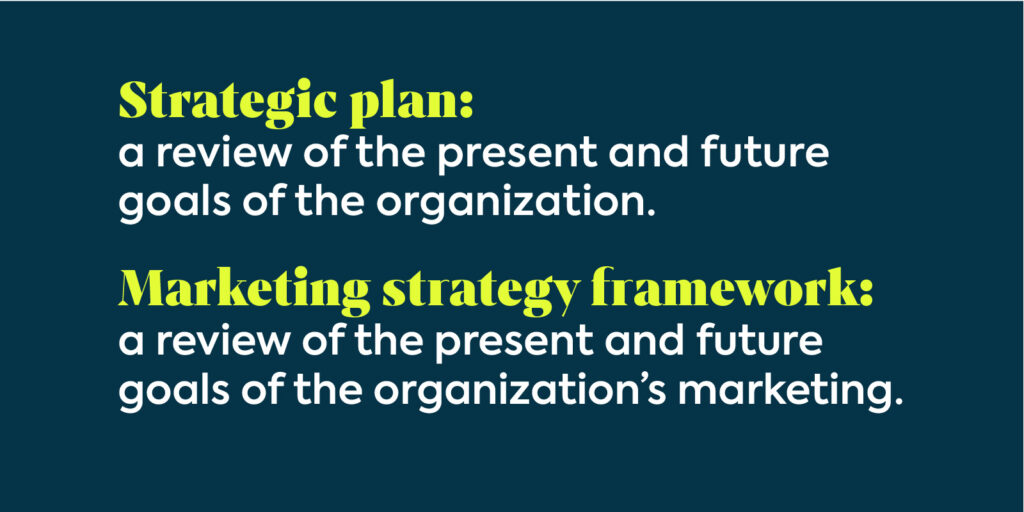 Developing a strategic plan – get started
Ready to get started on your strategic plan? Whether for your organization or you personally, a strategic plan will help you establish direction, define your goals, and develop a roadmap for the actions needed to achieve those goals. There are a variety of ways to get started:
You can lead the process (individual, business)
Initiate a committee to lead the process (stakeholders such as community, board, or staff members)
Hire a third party to facilitate strategic planning (we can help!)
Branding makes your strategic plan relatable internally (to you and your staff, board, etc.) and externally (to your clients and customers). As a brand strategy partner, Hersick + Webster can help your business process your strategic plan into brand marketing. Branding works in harmony with strategic planning by:
Developing and disseminating messages from the strategic plan
Translating the strategic plan from internal (staff, board, etc.) to external audiences (your target audience(s))
Taking things that are intangible and making them tangible
Answering the questions: How do we share this information? How do we talk about it? Who do we share it with?
Good branding isn't complete without considering a business' strategic plan. Branding, marketing, and communications should be a reflection of a strategic plan. Contact us today, and we'll help you plan for your brand's success.
Make sure you have the key components of a successful strategic plan.
Download our FREE Strategic Planning Checklist to ensure you have everything you need in your strategic plan.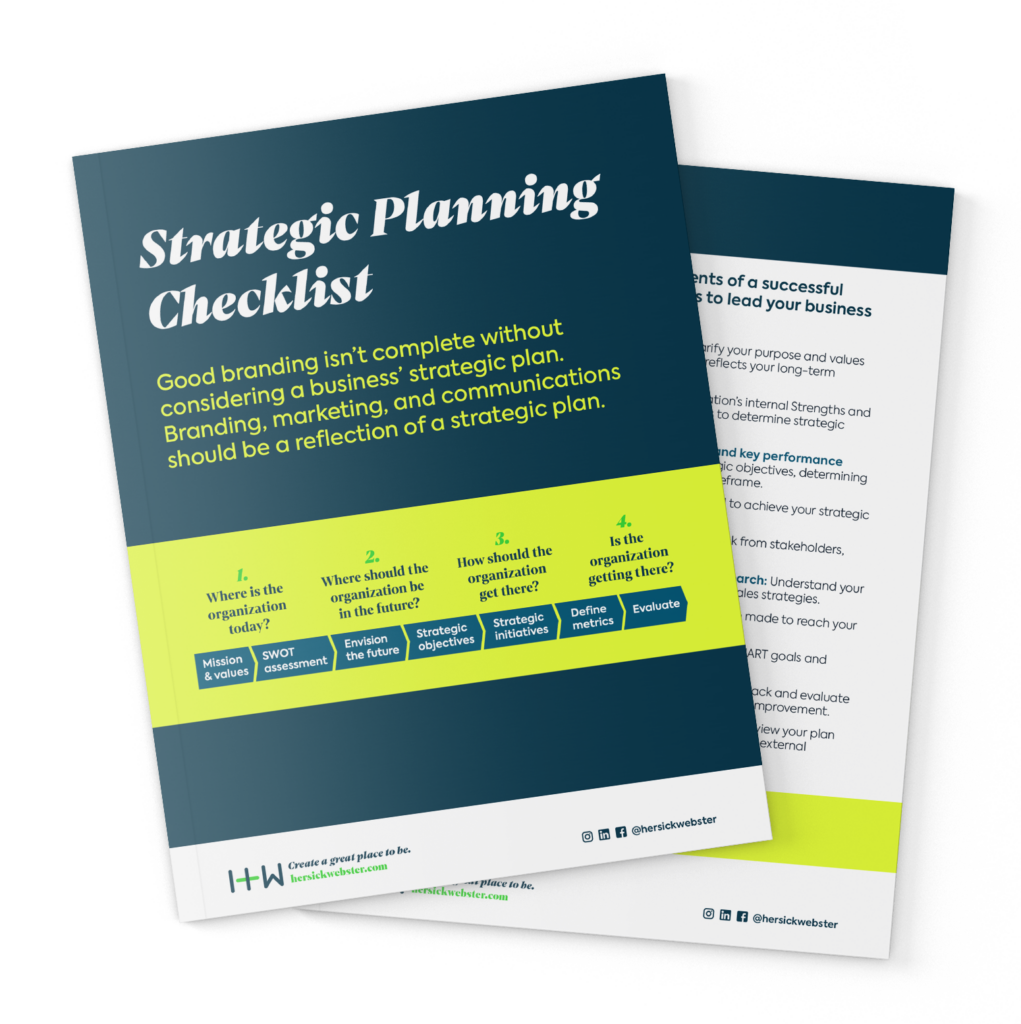 Good branding isn't complete without considering a business' strategic plan. Branding, marketing, and communications should be a reflection of a strategic plan.