There's a lot to look forward to when Fall, our Autumn Equinox, rolls around. Albeit, the cool weather came a couple weeks late, but the real Autumn kicked into gear these last few days. We can't wait to get out and hike under all those colorful leaves. Crisp air in the mornings with gentle breezes makes our runs all the more comfortable after a hot and humid summer, and – hello! – pumpkin spice everything.
Plus, Autumn represents the end of the third quarter and the beginning of the fourth and final quarter of the year. (How did we get here so fast?!) The beginning of this last quarter brings out a lot "last minute" nature and preparations to wind down what's left, and prepare for a new year and the opportunities and goals along with it. Speaking of last minute… if you haven't started on your holiday promotion or campaign, or need help giving it the extra boost to really shine this year – consider this your gentle last-minute nudge – let's get on it.
We love this time of year.
We're busy helping our clients wrap up their projects before they head off for holiday parties and family gatherings. All the more, it's the perfect time to talk about what's ahead in 2019: marketing changes, needs, and ideas for new and continuing campaigns. With less than 90 days left in the year, there's no better time.
Let's do Big Things in 2019!
Have we talked with you about what you're working towards in the new year? If not, it's easy to schedule a call with us. Starting the planning now means you'll be ready to start 2019 off strong. Let's chat.
What else do we love about Fall?
I did mention pumpkin spice. I couldn't not share some of our seasonal favorites.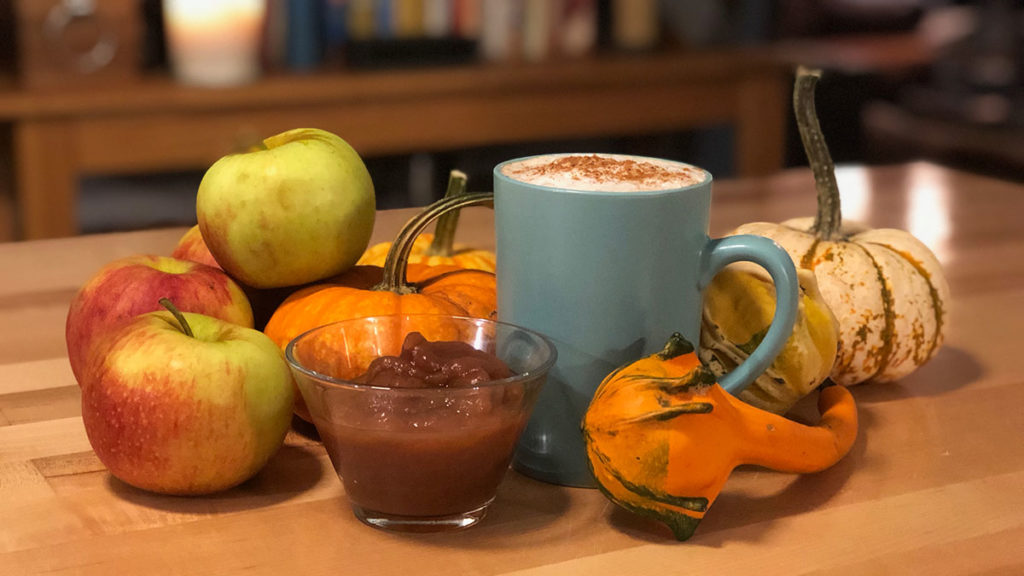 Laurel's Pumpkin Spice London Fogs
You'll need:
1 tea bag: I love Henley's Pumpkin Spice, but Numi's Golden Chai does the trick too!
~4-6 ounces of hot water (depending on your mug size)
~4-6 ounces of freshly frothed or steamed milk or milk alternative (I'm a sucker for Califa Unsweetened Almond Milk or Coconut Milk)
1 teaspoon of honey (optional)
Dash of cinnamon
Bring fresh water just before a full boil in your teapot or saucepan. A microwave works in a pinch too!
Grab your tea bag and place in your mug. Pour the hot water over the teabag into your mug, filling it halfway. Let steep for 3-5 minutes.
While your tea's steeping, grab your favorite milk or milk alternative and froth or steam it. We have a Nespresso Aeroccino Plus, but stovetop or microwave, or a handheld frother works too.
Remove the teabag. If you want a little bit of sweet, stir in your honey now (plus, it's a little extra defense for seasonal allergies).
Gently pour your frothed milk of choice into the mug.
Sprinkle with cinnamon.
Cozy your hands around the mug, sit back, sip slowly, relish the moment and enjoy.
Jamey's Easy-Peazy Applesauce
This one is really easy and impresses my wife. Not an easy feat with such an accomplished person. It's sure to impress your family, friends, etc… Please don't tell Laurel that there is not really much to it. It'll ruin the charm.
Go to the farm … or farmers market … or market and buy some apples. We made this one with Jonagolds. Tart with a touch of sweet. Yum!
Get out the crock-pot.
Peel and cut up a bunch of apples. Ours holds about 9.
Do you really need to be told to put them in the crockpot … Go ahead … Do it.
Add a little water, About a ¼ cup or so and some spices if you like … I always go for a little cinnamon and nutmeg. If you have a sweet tooth … a little honey won't hurt.
Put the crockpot on low.
Go to work! For like 8 hours. If you can, leave early. After 6 hours go home and enjoy the smell and watch it torment any teenagers in the house.
Mash them up until you're happy with the texture. My grandma made it smooth, so I use a fancy blending wand.
Eat it all!. .. or share, it's your call.
Marvel at how the apples really shrank and then make more because you ate it all … or because you forgot to take a picture for a blog post.
Or make a pie, but that's my secret.