The 6+ Cs for creating successful communication.
In the last post on the Gulf State Park interpretive project, we talked about what WE did to create the strategy for successful communication.
The winning strategy is talking with people and not at them. In that spirit, this post will be less about what we did and more about how what we did can inspire YOU to create better moments of interaction.
Regardless of whether you're talking to customers, employees, volunteers, or visitors, the principles that create authentic experiences and stories along the trailside in a park are the same ones that apply your email campaigns, annual reports, and websites.
1: Comprehend
To tell good stories you need a comprehensive understanding of what's important and why. But first, you have to define what important means. For your brand, it means looking hard in the mirror and caring about the lives of your customers.
It means asking questions like: Who you are? What's your voice? What do you believe? What matters to you? What makes you smile? What makes you different? Now that you're clear on all of that … Who will listen? Who are you talking to? Are you speaking to them in a voice they relate to? Why should they care?  
In other words … who do you care about caring about you?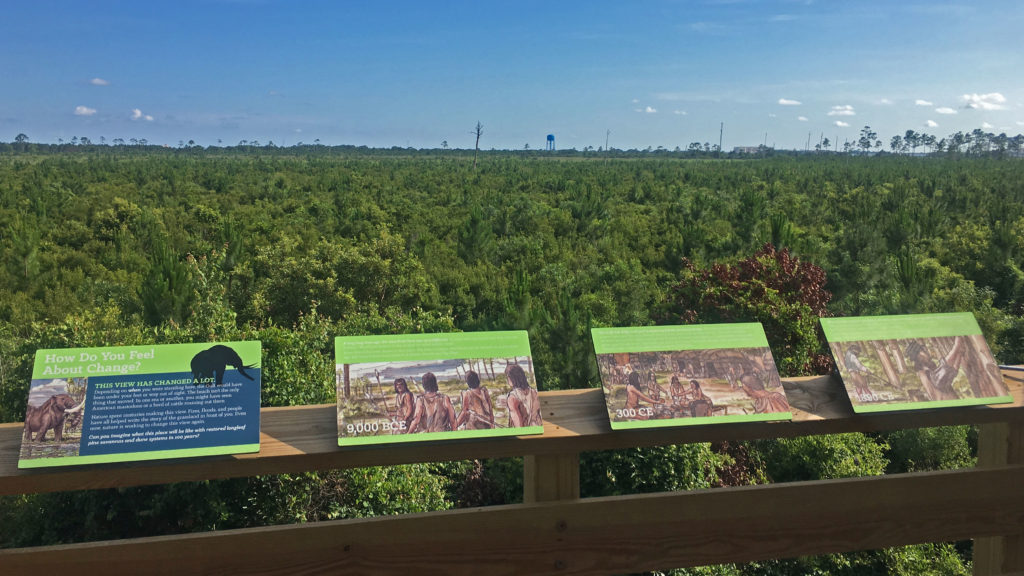 Understanding who Gulf State Park is meant collecting and connecting thousands of years of ecological and cultural change. To create compelling and correct stories requires asking lots of questions and being eager and open to learning from those who live it.
2 + 3: Collaboration and Collection
To inventory, research and understand the many, many stories we could tell, we talked, toured, and scribbled on maps and books with naturalists, walked ancient villages with archaeologists, and listened closely to local stories past down for generations.
We also read a bunch of books and hundreds of articles and research docs on the web.
How much time have you put into understanding your brand… your industry?… your customer's emotional and intellectual needs?
All that research and time spent collecting and understanding the stories of this place created a lengthy list of potential interpretive sign topics and locations. But just like writing, the list was only the first draft. To create a well-rounded visitor experience and fit the budget, we had to cut that list down to a few dozen strategically placed moments.
When you think of the many types of customers you could serve or the things you could create who/what are the ones you must focus on?
This exercise is helpful for businesses of all sizes but is especially useful for startups and small businesses. It's important to have a big picture understanding of all the potential things your brand can do or say, but unless your budget is limitless–and who's is!?–you have to make intentional decisions to get the biggest impact for your budget.
4: Cut
There are the things you could do and then there are the things you should do. Out of the hundreds of stories we could tell on the trails, we had to whittle down to the 40ish most important (56 panels at 43 locations to be exact … not including the 28 panels at the Lodge!). To help us make those tough decisions we created a set of standards to guide us.
For your business that could mean sorting your customers and your services into buckets to determine what connections let you make more meaningful connections so you can let go of the ones that don't.
Our interpretive buckets are culture + history, animals + insects, and plants + ecology. We narrowed the best of the best options down and plotted them against the trail map to see where the stories fit. From there we narrowed even more until we found a balanced mix of topics and locations. This means that folks are never too far from another meaningful conversation with the park.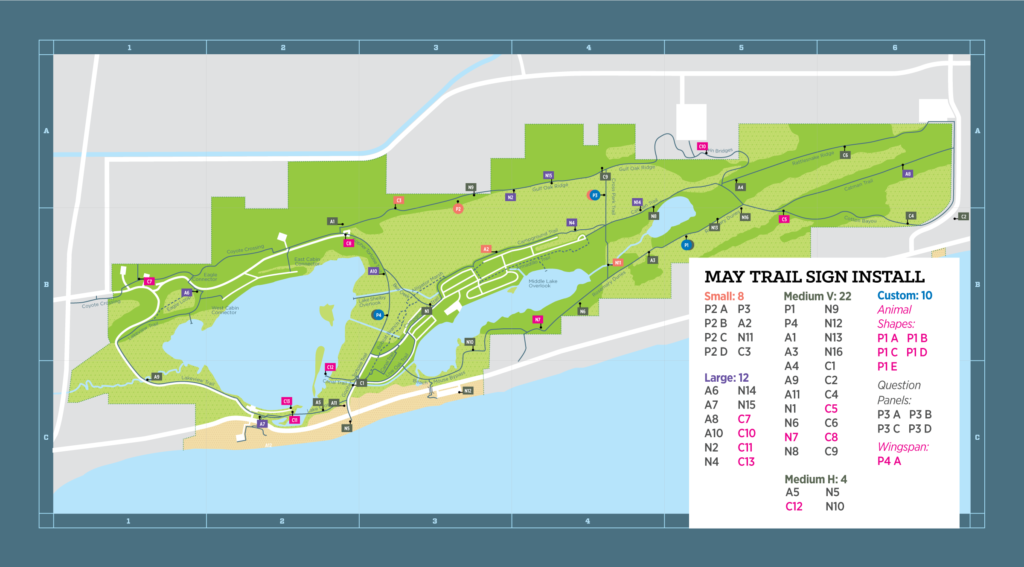 Less is more … most of the time.
We also set standards for the amount of text we would place on a sign. In general, being economical with words is important. But, that limit has to fit within the brand voice. It's very important to maintain the Park's folksy, approachable, and friendly voice throughout our short stories.
The signs and content we're organized into three sizes as well. This allowed us to use different kinds of content for interpretive moments … think tweets … stories … and … stories with tweets. Will anyone reading this in 100 years understand what a tweet is?!?
It was very important for us to use as few words as possible while maintaining a folksy, approachable and friendly voice.

5: Connect
Do you imagine your customers are more inspired by your product feature list or are they more excited to learn what it means for them in their daily lives?
It's not enough for a sign to be factually correct and be connected to the thing the reader is looking at.
We believe it's incredibly important that stories help the reader connect to their place in the story too.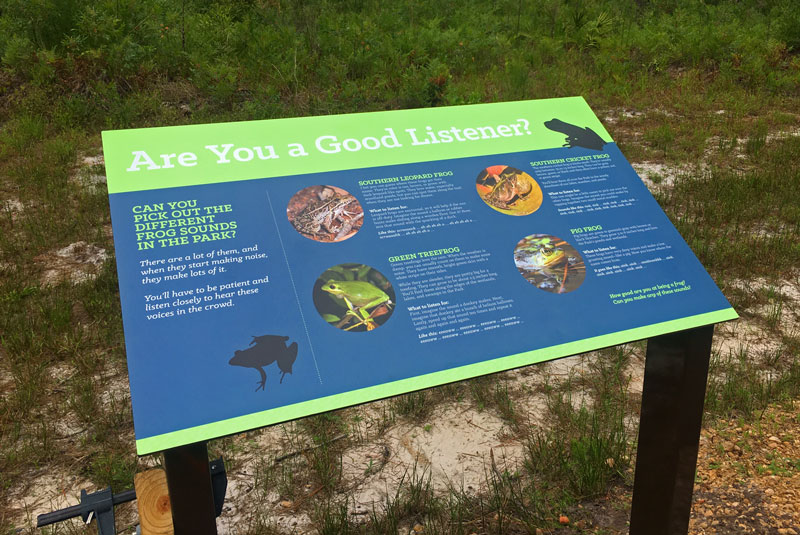 To do that we created a personality for the park that comes through in the stories on the trailside signs.
We decided that we wanted to create an ongoing conversation with visitors. We ask questions of them. We ask them to make sounds, think of their own hometowns, and imagine the past as well as the future. You'll find facts, figures, and dates in the text, but they are things discovered by the reader in the flow of the conversation.
Our goal is to inspire curiosity, to make someone laugh and to create connections to nature. One that might even lead to them taking action.
6: Call to Action.
Get people involved. Let them become part of your story, better yet, make them the hero of the story.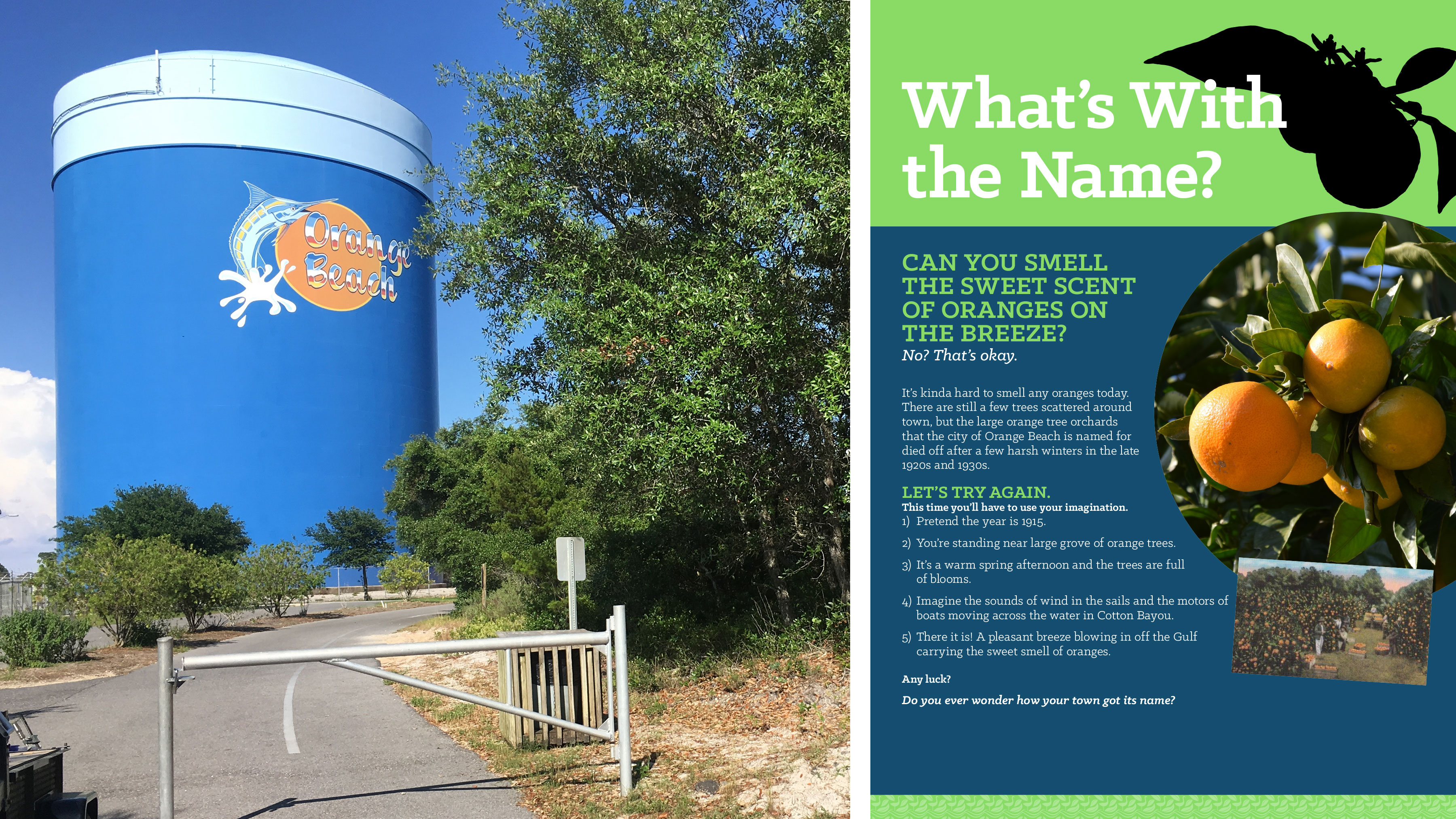 Don't just provide answers. Ask questions, spark curiosity and conversations.
Change requires action. At the end of the day, we are all trying to create change. Our signs hope to change people's relationships with nature, history and the way they think about those things in their daily lives. At a minimum, we hope the create mindful moments of pause that helps people look, listen, feel and connect with the world around them. 
What changes are your stories about?
Are you dictating the story to your readers or are you helping them create their own role in the change you seek to make?
This is part one in a series on the creation of the GSP interpretive design experience.
Part 3: Pause Places – Coming soon
Part 4: Interpretive Center – Coming soon
Part 5: Living Building Challenge – 

Coming soon

Part 6: The Lodge – Coming soon
Speaking of Call to Action …
Want to dig deeper into these 6 things in your organization but feel like you want a little (or a lot) of guidance? Reach out! We can help you work through the process of defining brand's character and ways you can bring it to life.