How in the world did a design firm end up running a farmers market?
What started as an idea in community town halls, gardens and coffee shops about 5 years ago has become one of our more hands-on design solutions.
In 2014, I was nudged into attending a community garden meeting with the Burke Street Promise Neighborhood Initiative…. 2 weeks later I was on the road with PNI attending a WV Community Development Hub leadership training.
The original goal of the Promise Garden was to provide residents in this challenged neighborhood a place to grow fresh food. It is hard to learn on an empty stomach and providing opportunities for families to get healthy food is part of PNI's mission–help kids be ready to learn so they can build a promising future from cradle to career.
The garden is only a small part of what PNI does to help kids and families succeed. Summer food programs, parent mentoring and much more.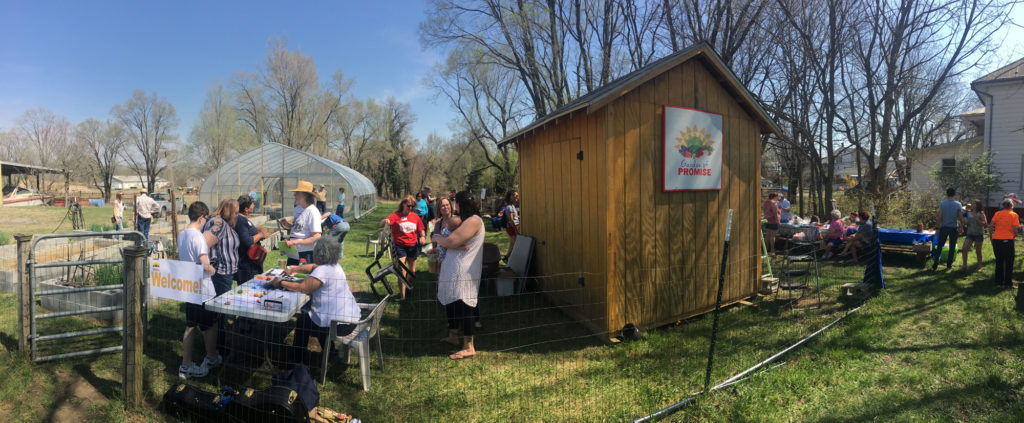 Connecting the dots.
Shortly after getting involved in PNI, I was also asked to join the board of Healthy Berkeley–a collaboration of WVU Medicine, Main Street Martinsburg and several other community stakeholders working hard to improve the health and wellness of our community.
Around the same time, I began working with my friend Dr. Cucuzzella to develop a program that would make it possible for folks on SNAP to shop at the local farmers market AND double their purchasing power for fresh fruits and veggies.
Coffee and conversations were shared and the idea of bringing back a farmers market to downtown Martinsburg began to grow.
The last piece of the puzzle turned out to be the What's Next WV Economic Development workshops that Laurel and I were facilitating. The desire for a market was a theme that kept coming up again and again. We were positioned perfectly to make it happen.
Reimagined + Relaunched.
Even though Berkeley county has an amazing agricultural heritage, downtown Martinsburg is considered a food desert. And, like many small cities throughout the country, it has found itself in the middle of reinvention.
Main Street Martinsburg is leading the charge to grow the culture and quality of life in the city. We decided to launch the new market in 2016 to coincide with their Friday's at Five concert series. This not only created a more robust event for families, it also gave the market a chance to build a following and to see if the support was really there.
Because H+W was the common thread that connected the various community organizations, we agreed to take on the management and marketing of this little community impact project.
Our goals are to improve access to fresh local healthy products, provide economic opportunities for local producers and makers, be a launching pad and gathering place for community events, teach folks about the great produce available, and to have a darn good time doing it.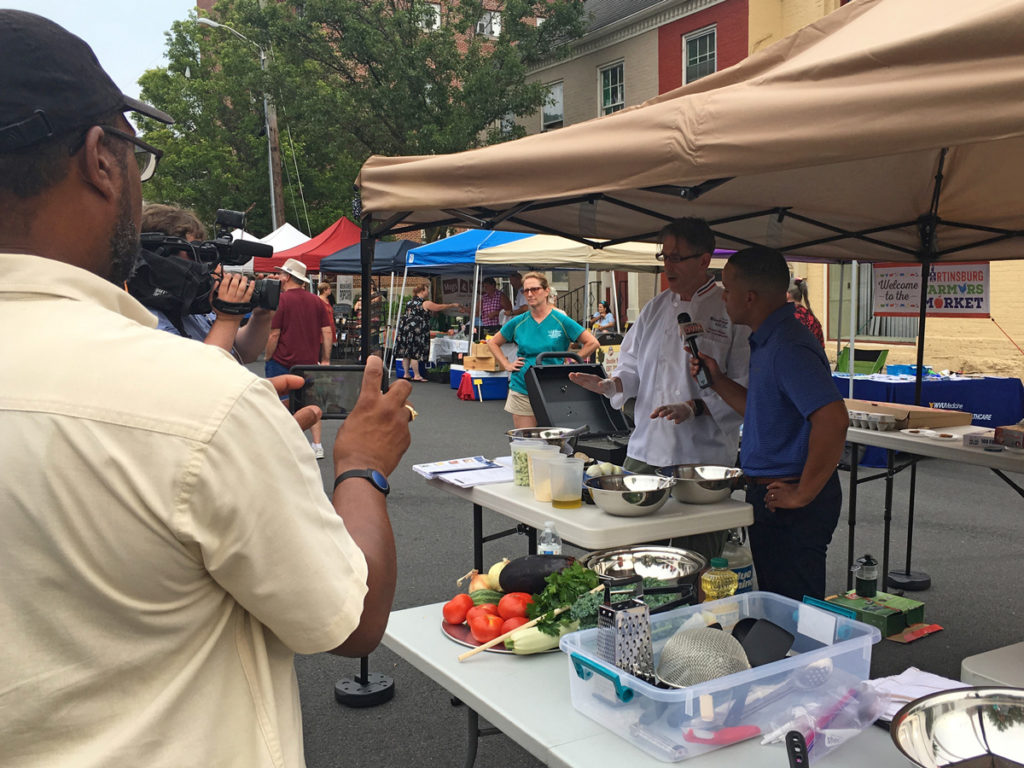 The Local Food Board
So… once we put such ambitious goals in place, I was "volunteered" to head the Local Food Initiatives committee through Healthy Berkeley.
Here is what we're up to:
The Market
Year 3 is off and running
Cooking education
Cooking demos with local chefs at the market and garden, Partnerships with WVU MedChefs and WV Extension to develop cooking classes and materials
Community Garden expansion
Through grant funding, we've built a high tunnel greenhouse in the Promise Garden that will extend the growing season, provide veggies to the downtown elementary schools and allow PNI to sell veggies at the market to support the garden.
Farm 2 Fork Fundraising Dinner
In September, we held our first farm to fork dinner on the town square. We sold out in less than a week. 50+ people had an epic dinner made with products from local farms by several downtown restaurant chefs as well as some amazing kids from the James Rumsey Technical Institute's culinary arts program.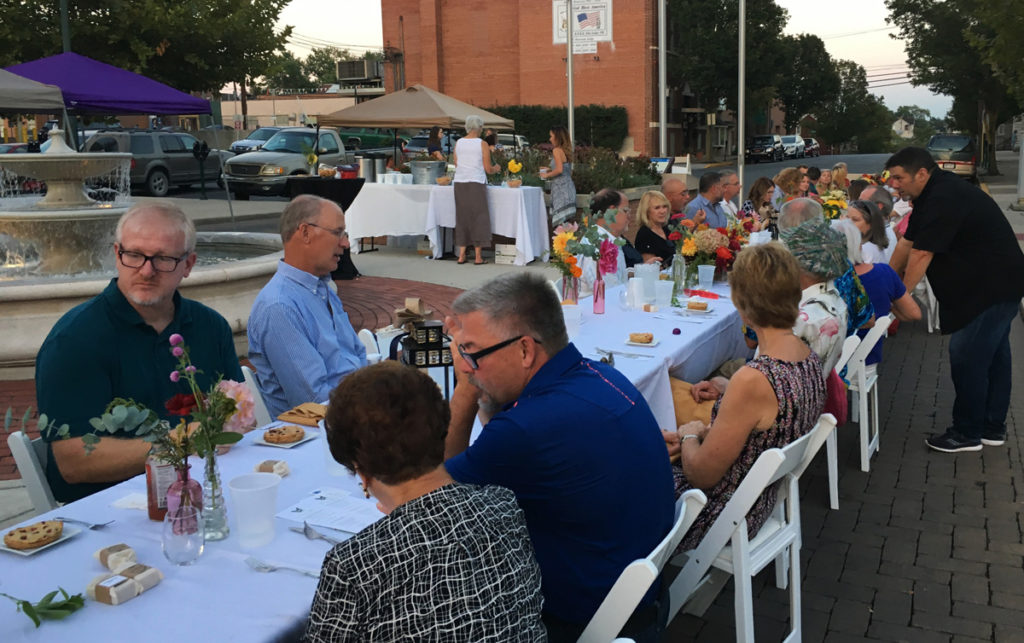 Is three the magic number?
The Martinsburg Farmers Market, in West Virginia, kicked off its 3rd season on May 4th. It was our best-attended opening yet! More importantly, the energy and excitement of the shoppers and vendors had a different feel to it. To say the least, I'm very excited to see what this market season has in store for us.
Growing the market and its impact in the community:
2016: 10 weeks, 5 vendors, 1100 shoppers,
2017: 15 weeks, 7 vendors, weekly non-profit guests, 4 cooking demos, 4 Walk With a Doc programs and our 1st Farm 2 Fork Dinner, Nearly 2600 shoppers, Over $900 in fruit and veggie bucks provided.
2018: We're planning on 22 weeks, 8 weekly vendors, 4 cooking demos, 4 Walk With a Doc programs, 4 Kids Market Explorers programs, weekly non-profit guests, voter registration, a larger Farm 2 Fork dinner and MORE. MORE. MORE!
I couldn't have imagined showing up at that garden meeting would have landed us here. I'm really proud to be part of such an amazingly passionate community.
Thanks to Healthy Berkeley, Main Street Martinsburg and the Promise Neighborhood initiative, the market has grown each year and in year three it has become something the community seems just as excited about supporting as we are!